​
The SUNDAB concept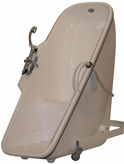 ​
It is a mobile tilt-back shower- and bathtub for anyone who is unable to use an ordinary bathtub by themselves. as well as a working tool for those who have to assist anyone who needs help.
​
If you can walk by yourself, it's easy to step in as the threshold is only 3 inches. It is also possible to access the bathtub by a hoist or a ceiling lift.
​
On the integrated seat you are sitting safely and can start taking a shower. All controls are easily accessible for the person sitting in the tub.
​
When you want to have a bath you start to tilt backwards by pressing the hand control. The movement is slow and when the foot end has raised slightly you can start filling the water, while tipping continues.
​
Release the button to stop tipping, otherwise it stops automatically when you are in a horizontal position. When you are lying in the bath the seat prevents you from sliding down or turn around.
​
When bathing is finished, open the drain and start to tilt forward, once more using the hand control.
​
When the foot end has reached the floor the bath is finished and you can step out.
​